With Google making a continuous drive to add an emphasis to localized results, websites with a local footprint must keep up with the ongoing changes happening in the search engine result pages (SERPs). In order for a website to appear in the local 3-pack results, it is essential to have a well-optimized Google My Business profile. The profile is free to setup, and will put your site in position to rank in SERPs where the local 3-pack is being displayed.
But what makes a well-optimized Google My Business profile? We've broken it down into four simple steps for you to follow:
Step 1: Ensure Ownership of Your GMB Profile
If you haven't already, add or claim ownership of your business in Google. Google has a simple guide on how to do this which can be found here. Also, make sure there are no duplicate pages for your business. A simple Google search will do the trick to check.
Step 2: Verify Your Account
Once you've claimed your listing, you'll still need to get verified by Google in order to unlock the full potential of your GMB page. Check the available methods by which you can verify ownership and choose the one that you prefer. For our purposes, since we had a general voicemail number listed as our business phone number, we chose the postcard method. This is the most commonly used method in which Google will send a physical postcard to your business address with a verification pin that you then enter online. This step can take a week or two based on post delivery times.
Step 3: Confirm Your Business Details are Correct
This may sound basic, but it's extremely important that the vital information for your business is accurate so you can make sure Google has no confusion around your business details. Even simple details like using "Street" versus "St." can throw a wrench into your local optimization so remember to be consistent across the board. We'll go into additional best practices for Google My Business optimization below.
Use the Correct Business Name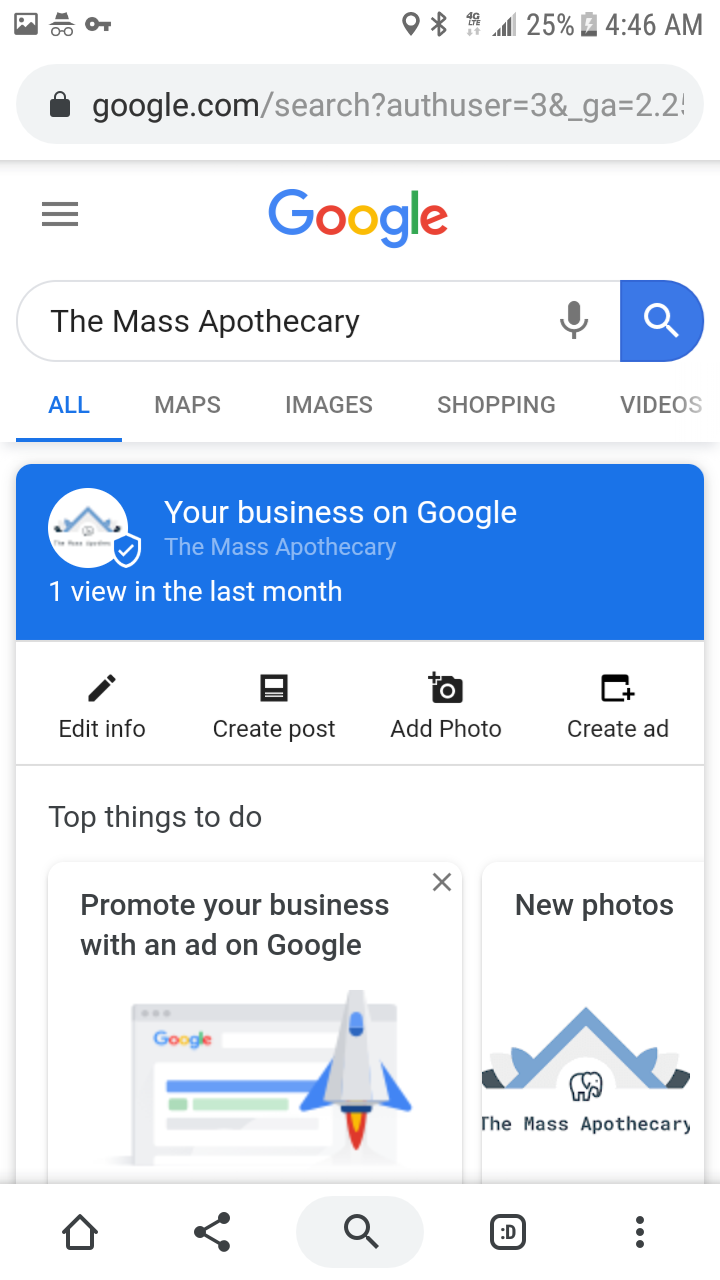 This seems pretty straightforward, but often times local businesses will be referenced differently from their official business name. Make sure your business name in the Google My Business profile matches the real, official business name.
Use the Correct Address
Another best practice for Google My Business page optimization is to make sure the address listed is 100% accurate. We suggest using the USPS listing. They even have a handy online tool you can use to check your official mailing address. You can find that tool here.
P.O. Boxes are not allowed, so make sure you're using a local street address. Also, if you have an office or suite number, make sure to put the street address on line one and additional details on line two. Lastly, make sure you are consistent across all directories with the way your address is written.
Use the Correct Phone Number
When adding your business phone number, use the phone number that you use to field general inquiries. Ideally this is not an 800 number and is a local phone number, which can add local relevance to the listing, however, an 800 number is accepted by Google.
Use the Correct Website URL
This is usually the homepage for local businesses, especially for those with only 1 location. If your business has several locations with a unique landing page for each location, use the appropriate location landing page as the URL or use the global headquarters URL when appropriate.
List Your Categories
List as many categories in your GMB profile that appropriately describe what it is that you do. Moz created a tool that lists out various options that can be helpful with selecting your category.
Hours of Operation
Next comes your hours of operation. This is simple and straightforward – list the hours during which people can contact your business. Additionally, an option has been added to include special hours for specific dates like holidays that you can customize.
Create an Optimized Introduction
The Introduction on your Google My Business page is your opportunity to tell people what your business is about and describe the services you offer. You can also link out to different pages on your website in this section, although no link equity is passed through because these links are nofollowed. The links are specifically designed to help users navigate to the various sections of your website which can help improve click-through-rate (CTR). Best practices is to have an introduction of 150-300 words.
Upload Photos
Google My Business has updated this section to allow for multiple sections. Use the photo management tool in your profile to update and add photos to the corresponding sections.
The first section is Identity Photos, which are broken out into three sections including: Profile Photos, Logo, and Cover Photos. Next up is the Exterior Photos section. As it sounds, these should highlight the outside of your business so customers can recognize your business should they be visiting in person. Photos at Work are designed to enhance your employer brand and showcase the culture at your business from an employees perspective. Lastly, you have the option to include Team Photos that really give your business a more human touch.
Virtual Tour Option
This is labeled as an option as it is the only optimization portion of Google My Business that has a cost associated with it. Google provides a list of trusted photographers and videographers who offer services that include filming your office/workspace in order to further enhance your GMB profile and engage visitors to your profile which may increase your CTR.
Step 4: Create/Link Your Google+ and GMB Pages
Now that your Google My Business page is complete and optimized, it's time to link your Google+ page to your GMB profile. To do this, simply click on the Google+ logo at the bottom left side of your accounts homepage. This will bring you to a new Google+ profile page to create. We'll follow up with another post next showing you how to further optimize your Google+ page for customer engagement.
In the meantime, if you have any questions on how you can optimize your local presence for SEO, feel free to leave a comment below and we'll gladly respond.